This is a sponsored post written by me on behalf of Tom's of Maine for IZEA. All opinions are 100% mine.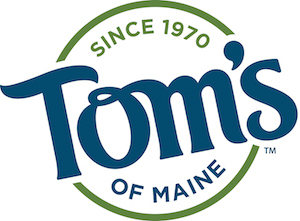 A while back I went through a phase where I wanted to start using ONLY natural beauty products. I tried the "No Poo" lifestyle for a while. I used natural henna to dye my hair. And I really wanted to make the move permanent. Let's be honest, though, it is quite difficult to move away from the products we've used our whole lives. I've recently began sharing lots of DIY home beauty products here on the blog in an effort to save money and as a way of knowing EXACTLY what I'm putting on my body. It would be so much easier, though, if companies just started making their products without all the added chemicals that are just not necessary.
I have been using Tom's of Maine deodorant for about a week now. I hadn't tried their products before now, though I've seen them in our local Sprouts. Tom's of Maine is a leading natural personal care brand that makes high quality products. Its team consists of distinguished dentists, scientists, and herbal experts that are leaders in their fields, charged with making products that are better for the environment and for consumers. That is definitely a company I can get behind… if their products work.
Tom's of Maine Long Lasting Natural Deodorant has been the best-selling natural deodorant for decades. So I've been trialing them out to see if their products live up to the hype.
Here's a question – how often do you look at the ingredients list on your beauty products? Most of us check at least occasionally on what's in our food, but so often we forget that what goes ON our body is as important as what goes in it. Tom's of Maine natural deodorant has no aluminum, no petrochemicals, no parabens and no artificial fragrances or preservatives. Yet, it still gives you 24-hour odor protection which is clinically proven. It has fully recyclable packaging, and they never test on animals or use animal ingredients. And if that's not enough reason to love them, 10% of Tom's of Maine profits go back to helping people and the planet.
But again… does it work?
I was sent three different deodorant variants to try (Wild Lavender, Natural Powder and Unscented). When trying out products like this, it's important to remember that it takes time for your body to adjust. Our body chemistries are totally unique, and sometimes one product or fragrance will work better than another. I loved the smell of the Wild Lavender, but once it was on, I actually wasn't that impressed. It didn't smell bad or anything, but it didn't really smell like anything at all. When I tried the Natural Powder fragrance (which smelled ok), I found that it actually gave off a bit of a perfume around me, and I loved how I smelled. It lasted all day, and my oldest son even came up to me and told me that I "stink pretty."
The unscented wasn't really unscented. At least I could smell a faint scent. But it wasn't overwhelming or obvious. I couldn't pinpoint the exact smell of it. And it did not make me smell of anything in particular.
All three scents did exactly what they claimed. They blocked any sort of body odor and kept me feeling quite fresh.
HOWEVER – these are NOT antiperspirants. Many other brands use certain chemicals in their products to block you from sweating. These, however, do not. If you are a person who sweats a lot, you're going to have to weigh up your options. Remember that sweating is actually GOOD for you, though it can be embarrassing if you do it a lot. I luckily do not have that problem. I found the deodorant to work perfectly for my needs, and I now keep them on hand at all times. I carry the unscented one in my purse just in case I need it. The lavender one is in my gym bag, for use after a workout. And the powder version is in my bathroom for use each morning.
I wish that all companies were as conscious of helping people and the environment as Tom's of Maine. These deodorants have definitely inspired me to check out some of the other products that they offer, such as natural toothpaste, mouthwash, dental floss, deodorant, bar soap, body wash, body lotion, hand cream, lip balm and baby care products.
You can find out more about Tom's of Maine by visiting them on social media.  Twitter | Facebook | Instagram | Youtube
Have you used Tom's of Maine? What has been your experience with them? Do you have a favorite product? I'd love to hear your recommendations!