This is a sponsored post written by me on behalf of Diaper Genie® Elite and Babies R Us. All opinions are 100% mine.
Do you remember that FRIENDS episode "The One With the Baby Shower?" It focused on a very pregnant Rachel preparing to welcome her new baby into the world. Her mom, Katherine, is pressuring her to let her move in to help take care of the baby, and Rachel realizes she is woefully underprepared for motherhood. It was this episode that I first heard about Diaper Genie®. Rachel opens her gift and has no idea what it is. Here's the exchange:
Katherine: It's a Diaper Genie®.
Rachel: Oh, it dispenses clean diapers!
Katherine: No, it's where you put the dirty ones!
Rachel: Well, that's gross. Why don't you just take it outside and throw it in a dumpster?
Mrs. Green: Well, are you going to do that ten times a day?
Rachel: It goes ten times a day? What are we feeding this baby, Indian food?
I laugh when I think about it, but until I had my first son, I had no idea just how invaluable such a product could be. We bought a lot of "luxury" items when we first became parents. Most of it was never even used as we realized pretty quickly that new parents are easy marks. But the one thing that I could never part with was our Diaper Genie®.​
Sure you could just as easily use a trash can, but you find out quickly what a bad idea that is! Dirty diapers have a habit of stinking up a joint. Plus, it fills up fast, and if you are running up or down stairs, you will soon tire of the whole thing process. I also can tell you from experience that soiled diapers get heavy, and if you go to remove a full trash bag full of waste, you might end up ripping the bag and having a giant mess on your hands. NO FUN.
And now, you can buy the Diaper Genie® Elite at Babies R Us which is the simple, most effective and hygienic diaper disposal system. The Diaper Genie® Elite allows for moms to have a quick, hands-free way to dispose of stinky diapers. The 7-Layer Refill Technology guarantees odor lock protection. Plus, the Diaper Genie® 8-pack refill meets all refill requirements for year one of baby's life – meaning less trips to the store and more time spent with baby.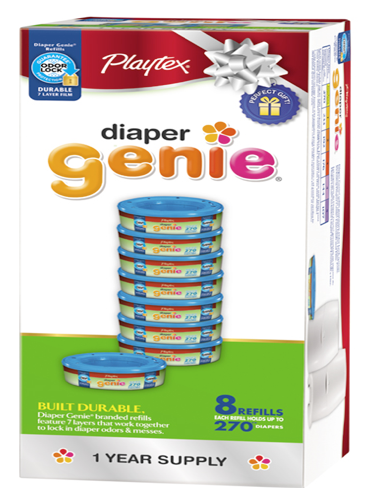 Diaper Genie® Elite also has a Mommy Time Rewards program. For each purchase or registration for Diaper Genie® products, you will earn reward points toward eGift cards at your favorite stores like Sephora, VUDU, Zappos and Babies R Us! Just for signing up, you will get 300 points!  Use your Mommy Time Rewards for whatever makes you happy and relaxed.
Mommy Time is precious time. Now that I have three kids (my youngest being only 10 months old!), I have a huge appreciation for any alone time I may get. Sometimes I like to run.
And sometimes I like to explore new places alone.
But usually my alone time consists of me heading to the mall for an hour of retail therapy! And if I'm really honest, I spend a lot of my time and money on things for my kids. So really, this particular rewards program is perfect for a mama like me. I could spend my rewards on new makeup (a passion of mine!) or on cute new clothes and toys for the kids! I can even buy new refills for our Diaper Genie®!
Sign up for Mommy Time Rewards and start earning points now. Remind your friends who are expecting so they can take advantage of the offer. These are a great registry item, so remind them to sign up and add it to their list!
Did you have a Diaper Genie®? Was it useful to you? What other products could you not live without??